From Stocking Stuffers to Immersive Fragrance Experiences, ScentAir has everything holiday shoppers want
Sharing and gifting the magic of fragrance has never been easier, thanks to ScentAir's newly introduced product bundles. Available online and in time for the holiday season, these gift sets offer an array of quality products and price points, ensuring first-time and long-time customers have inviting ways to explore the world of fragrance.
These bundles include:
● Seasonal Candle Trio
● Infused Reed Sets
● Best-Sellers Bundles
● Build Your Own Cartridge Bundle
"We're thrilled to introduce these new fragrance bundles as a way to share ScentAir's transformative fragrances and new products with family and friends," said ScentAir's Director of Global Marketing, Evin Ellis. "It's the perfect opportunity for people to confidently celebrate the holidays knowing their gifts reflect the highest quality and will offer hours of enjoyment. Plus, it presents a wonderful opportunity to discover our full range of products along with loved ones during this festive season."
Light Up Your Holidays - Seasonal Candle Trio
Perfect for stocking stuffers and hostess gifts, this bundle of three petite candle tins offers an ideal choice. These 3 oz., small-batch candles are crafted with soy-blend wax with cotton wicks in festive gold tins. The fragrances are ideally suited to infuse homes with the scents of the season: Sage and Pomegranate, Apple & Oak, and Cranberry Apple Marmalade. A $42 value just $30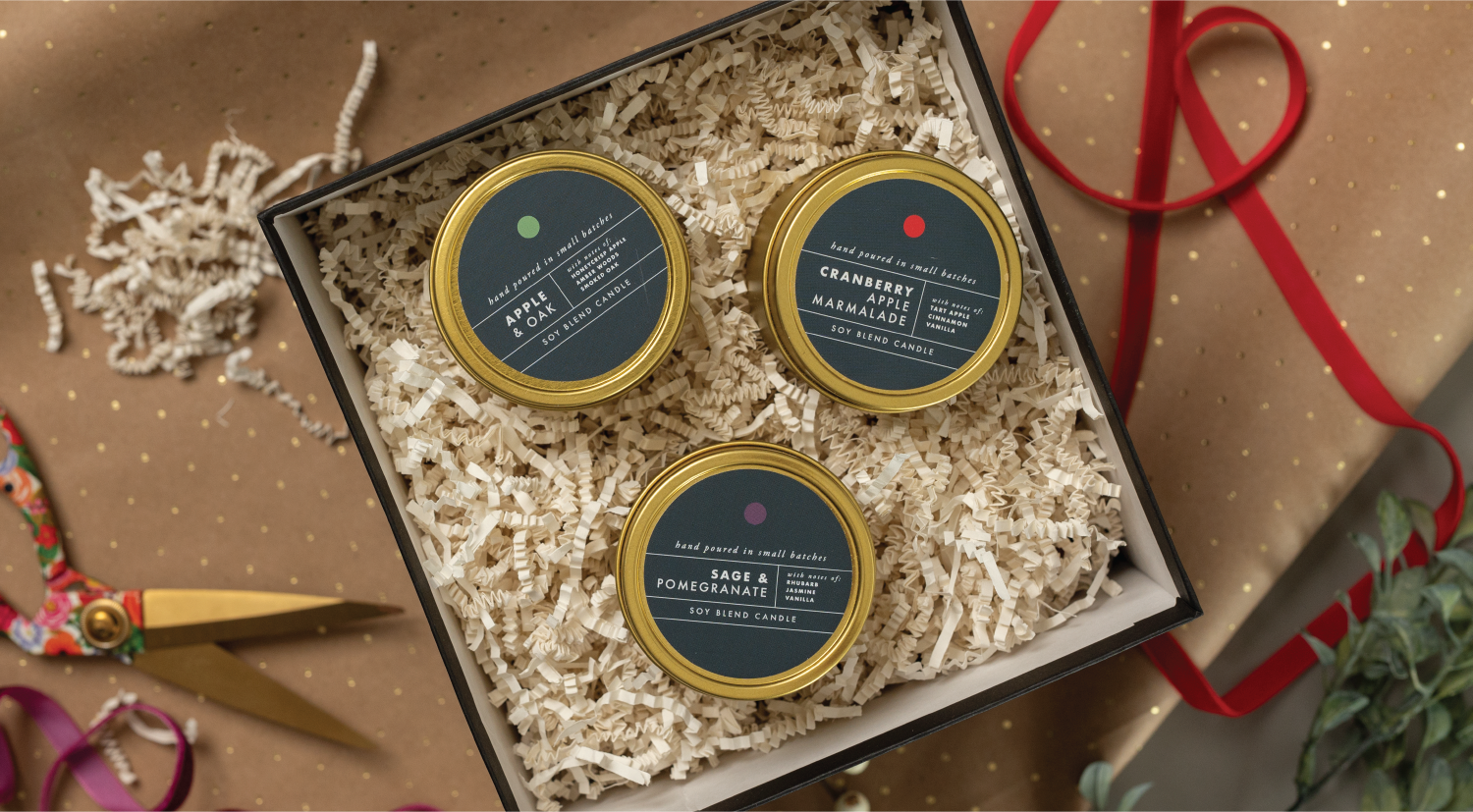 Big Fragrance for Small Spaces - Infused Reed Set
Experience the convenience of reed diffusers without the mess. ScentAir's reeds come pre-scented with professional-quality fragrance oils, eliminating the worries about spills or messy refills. The set includes a classic white ceramic vase and 25 infused reeds. Simply start with 3-5 reeds and swap new reeds for the old ones weekly to maintain the fragrance's strength. Available in 10 popular fragrances. Refill reeds can be purchased separately without the vase. A $40 value just $36.
Immersive Fragrance Experience – Best-Sellers Bundles
Love a particular fragrance or want to share the perfect scent with loved ones? This Best-Sellers bundle delivers a multi-format fragrance experience throughout the home and car.
Available in three best-selling fragrances:
White Tea & Thyme

The fragrance features welcoming notes of white tea, bright citrus, thyme, jasmine and subtle amber.

Patchouli Blanc

The fragrance features sensual notes of tuberose and geranium blend with white patchouli and a base of amber, blonde woods and sueded musk.

Golden Bamboo - the fragrance of Four Points by Sheraton

The fragrance features lively satsuma and Tahitian lime notes blended with Fuji apple, golden bamboo and sun goddess rose, cedarwood and white amber.
Each bundle contains:
Infused Reed Set - 25 pre-scented reeds & decorative vase
Room Spray - 4 oz. concentrated mist
Glass Candle - 7 oz., 50 hours of burn time
Auto Fragrance - 3 pre-scented discs
A $103 dollar value just $75.
Build Your Own Bundle - Fragrance Cartridge Quad
Curate your ideal aromatic experience with the ScentAir Create Your Own Bundle. This customizable bundle includes a white or black Whisper HOME diffuser, along with four of 20 best-selling fragrances. These fragrance cartridges deliver approximately 30 days of fragranced air, depending on the diffuser settings and usage. Elevate your space and immerse yourself in captivating scents. A $420 value just $200.
To explore these fragrance bundles and more, visit go to ScentAir.com.
About ScentAir: ScentAir Technologies, LLC., privately held and founded in 1994, provides best-in-class ambient scent marketing solutions to many of the world's most recognized brands. As the global leader in olfactory marketing, the Company creates memorable impressions for both small businesses and global enterprises, elevating their customer experience through the power of scent. Based in Charlotte, NC, USA, and corporate offices in the United Kingdom, France, Netherlands, China, Hong Kong, Japan and Australia. The Company's 525+ global team members service customers in 119 countries through its dedicated global supply chain and manufacturing operations in North America, Europe, and Asia.
ScentAir is committed to the creation of customized scent strategies that boost clients' brand sentiments, customer loyalty, and sales. To learn more, go to ScentAir.com.